Greetings !
Greetings once again. We are very happy to share with you the news that we have opened a new branch in the Garden city of Bangalore . You'll also find that a lot of our creative work has gone far beyond Indian shores. We have launched the Maagrita website which is targeted at the export market, designed the Thesys Technology stall for TCF 2005-Monaco and the Ahaa TV Commercial for the UK market. A feather in our cap is the Capacs Website which was launched by the Honourable Chief Minister of Tamilnadu, Dr. J.Jayalalitha. And you'll also find news about our IBM Multi-city survey. Now read on…

Good Wishes,
M. Nachiappan
Capacs Launch
The launch of the
CAPACS (
Corporation Aids Prevention and Control Society
)
website is something that we are immensely proud of. It was inaugurated by the Honorable Chief Minister of Tamilnadu, Dr.J.Jayalalitha. In her own words, "I am very happy to launch this new, interactive website, www.capacs.org of Chennai Corporation Aids Prevention and Control Society. This website has been designed to provide very useful information on all aspects of HIV/AIDS Management". We'll be happy if you could check out for yourself.
IBM Multi-City Survey
We conducted a multi-city survey covering India 's metros like Mumbai, Calcutta , Pune, Bangalore , Chennai and Hyderabad . This was basically formulated to measure the satisfaction levels of business partners and end users. The findings of this survey have acted as valuable feedback that IBM is using.
3D Animation Is In!
"If you thought animation is just all about effects, think again", urges Srinivasan, Lead Animation Developer at N&D. Having worked on effects for blockbuster movies, serials and TV commercials for many years, he begs to differ. "A little known fact about 3D animation is that it can be used to create entire full length commercials from scratch. This provides a better image resolution compared to shooting them with the camera. Besides, you have better control of every aspect including lighting, textures, contrast, colour and so on. And it's extremely cost-effective too."
One of the commercials that we created for Narasu's Jewellery – an ad that played for an entire minute in theatres was completely created on 3D. The client gave us was the reference for the jewellery designs and we recreated the magic onscreen. 3D can highlight your product and make it the hero of your ad in a way that you never imagined possible. Stunning lighting and sound effects, animated characters, action, colour – all the ingredients to create a great ad with amazing recall.
AHAA Masala Commercial Makes Waves in UK
Our ad film for AHAA is a truly successful crossover of Indian creative to foreign shores. Ahaa Masala is a product from the UK based SISCO Food Products Limited whose Ahaa range of sea foods are a rage amongst the Indian and Srilankan population there but it does have its share of British loyalists too. This Tamil commercial launches the brand new Ahaa range of masalas. It shows a lady walking into a departmental store and asking for a Masala that will match Ahaa's quality. The salesman replies, "Ahaa's equal can only be Ahaa's masalas". The lady is pleasantly surprised to know that Aaha has launched a range of masalas. The commercial ends with close up shots of the product which has three variants, Mild, Hot and Extra Hot.
THESYS Puts Up a Great Show at Monaco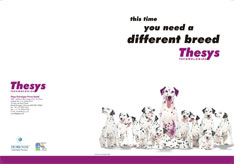 When Thesys Technologies decided to participate in an international forum TEMENOS Client Forum TCF 2005- Monaco , the question was how to project the company in the best way. We helped Thesys design the entire stall including all the displays like stand-alone displays and posters. These focussed on the company's tag line 'We are a Different Breed' and so did the brochures that were handed out to visitors. This strong branding message was conveyed effectively and the stall had many interested visitors keen to know more.