Greetings !
If you're wondering why our mast-head has turned red this time, we're excited because it's a red-letter quarter for us! Yes, we are glad to share the news about our exciting new project that was launched recently - www.ruralone.com. This will be a one-point resource on the rural market and the response from the corporate world was overwhelming. The media coverage was encouraging too and would like to express our heartfelt thanks to them. This has given us the confidence to move to the next level – the national level and we have planned the commercial launch at the end of 2006. And there's more on our successful campaigns in this issue waiting for you.

Warm Wishes,
M Nachiappan

Rural One Gets Talked About!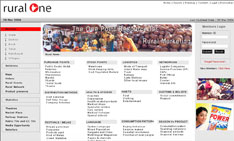 Did you know that India has 742 Million rural people who buy a minimum of 12 brands a month? We bet you did not. One of the most exciting projects that we're involved with is developing the portal www.ruralone.com - a one-point resource for rural marketing. It's the first of its kind and will contain the latest data on rural markets, which will be collected through a system of district-wise nodes. This will be a boon to marketers as it will contain statistics and data on consumption patterns, purchase points, income levels, spending frequency and infrastructure to communication channels. We shared the news about the commencement of the operations with the media to spread awareness. This activity was splashed in various newspapers like The Hindu, Business Line and others.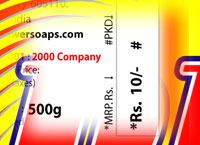 Pricing strategy is critical in ensuring the success of a brand. Regional players have successfully used this to score over MNCs. Well-known regional brands of detergents and oils have priced themselves below the premium segment and a cut above the lower segment. This brought them gains both from those upgrading and those tempted by the lower cost. This helps them enjoy bigger volumes and greater profit.
Pricing should be done considering the following points 1. Target Group, 2. Buying Power, 3. Competitors Pricing, 4. Alternate Product Pricing and 5. Product Demand.
Campaign
NIS SPARTA offers a bouquet of training solutions like LPO Solutions, Reality Learning, Technology Enabled Learning and more for the corporate. We have developed a communication campaign consisting of a series of marketing materials. Each focused on a different training program and was carefully packaged into a crisp, informative capsule that would appeal to the reader and convey the key ideas quickly.
Curry In a Hurry!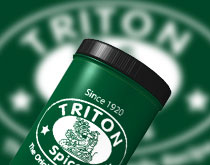 Triton Spices from the house of Lalahs is all set to take the international market by storm. We have designed the entire packaging of Branding for this new spices brand, which offers more than 25 variants. The rich and peppy packaging that will instantly attract attention when displayed at stores.
Chettinad Challenge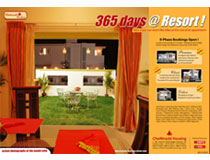 Chettinad Enclave is a luxury township at picturesque Pallikaranai. This modern township consists of independent villas with all facilities. The challenge was to effectively convey the USP of the place, which is the untouched beauty of nature and the leisure, escape it provides. We decided to go the leisure route and released a half page ad in The Hindu with the headline '365 Days @ Resort' complemented by a beautiful picture of the living room overlooking the private garden. We had an overwhelming response. One more success story from N&D!