Dear Friends,
Wishing you a wonderful, happy and prosperous Diwali. The festival of lights is here and our newsletter has a cheerful glow too. The glow that comes from having a string of successful initiatives and enjoying putting the smile on our clients' faces. We are happy to share with you the news that this quarter we have a prestigious new client - TVS.

Regards,
M Nachiappan

Playing the Thesys Game
Thesys needed to create brand awareness and reinforce a distinct brand personality that focused on the security and reliability that the company provided its clients. To showcase this, themes like Golf, Chess and Billiards were selected.
Each game was used to draw a parallel to the qualities the company embodied. For instance the Chess theme talks about how Thesys helps the client make the right move. The Billiards theme talks about delivering perfect shots, that is achieving the results the clients want while the Golf Theme talks about precision and performance.
Chettinadd Wows Dubai & Muscat
Chettinadd Housing participated in the NRI focused exhibition at Dubai and Muscat. Many NRIs evinced a keen interest in buying these villas and bookings were made on the spot. We had designed the look and feel of the stall, including the collaterals like brochures & the interactive website.

Get Savvy with Corporate Gifting
The festive season is here and its time to go on a gifting spree. Corporate gifts are an ideal way to build a relationship with your clients. Many products lend themselves to allowing you to carry a branding message or your company's name which serves as a silent, unobtrusive method of brand recall.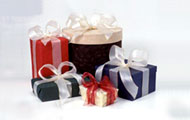 Some of the most popular corporate gifts of the season are exclusive stationery, classy clocks and watches, 24-carat gold-plated decorative pieces, smart desk accessories, Swarovski crystal, leather accessories and more. Mithai and chocolates do have an appeal of their own and continue having a fan following too. These will be appreciated by everyone. If you know about your client better, you could go a step further and gift him/her something to match personal tastes.

Now is the time to put the smile on your client's face. Give them a gift that strengthens your bonds.
Triple Power's Colourful Avatar!
Triple Power has now got a colourful avatar with its new packaging.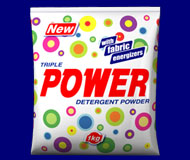 The detergent makes whites whiter and helps colours stay brighter. This concept has been epitomised by adding colourful dots to the packaging which also makes it look lively. The new look is expected to push up sales and has already been successfully trial marketed.
On The Rural Mapping Trail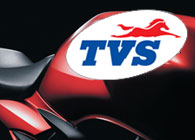 One of the unique projects that we have been doing is rural mapping. We have successfully designed the entire strategy for Tamilnadu and will now handle the implementation for Tamilnadu and Karnataka.

We have successfully completed the mapping survey for non-metros which will basically comprise small towns and help identify prospects. And now handling the familarisation programme for the identified prospects in the respective cluster towns.

We are the only agency competent enough to handle a project of this magnitude from strategy to implementation. The information and statistics that we are compiling will be very valuable and help marketers plan their strategy better and help them spin out business success stories consistently.
CCSQ Reinforces Brand Positioning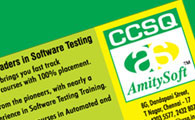 CCSQ-Amitysoft is the pioneer in offering software testing courses. We have recently run a campaign in Education Plus for them to create awareness and promote the courses amongst freshers.We reinforced the fact that they were pioneers in the field and highlighted their USP of offering fast track software testing training with 100 % placement. The campaign was successful and opened the eyes of students to this attractive career option whose demand is growing.