Dear Friends,
Independence Day greetings!
With the country moving towards knowledge and creative outsourcing, we are looking forward to being part of it. We are ready with the infrastructure and resources to handle such projects.

We've had a national and international body of work over the past few months. From national campaigns for La to getting an exhibition suite ready for Thesys for an IT exhibition in Thailand, it's been quite eventful. We are also glad to welcome Aldea Infotech on board. Lenovo Care has turned out to be a big success too.

Regards,
M Nachiappan

TFM adds fizz to soap wars
The soap wars are fought on prime time TV but amidst the lather and the bubbles, Nature Power Bath Soap focussed on a strong USP that delivers extraordinary value to consumers - TFM. TFM holds the moisturizer, deodorant and other ingredients and locks in long-lasting freshness and fragrance. This was the heart of the TVC which highlights the 76% TFM in soap which translates into 100% goodness for your skin.
La Talc sparks romance
Feminity and romance are back, the La Talc TV spot brings back the magic. The national campaign in all the South Indian languages and Hindi stressed the line, `Thinking of La brings romance'. The qualities of freshness, beauty and desirability that it brings were conveyed by showing a happy couple where the man is completely swept off his feet.
The rise of retail
India has been ranked as the 5th largest retail destination across the globe. The recent trend has been the rise of large branded retail store chains that cater to the time-starved professionals of today. In a country like India where the unorganized sector is huge, this is a big opportunity for brands to grow rapidly.

The retail boom spells success for brands that are able to carve a distinct identity for themselves. This means they need to step outside the confines of their familiar market space and anticipate consumer demand ahead of others. They can't remain static but must be flexible enough to grow with the evolving customer.

Brand association is important in a retail context, upmarket brands need retailers who have a similar class of products. Appropriate POP material and merchandising displays that convey a strong branding message are imperative for brands to make the most of retail.


This has given rise to the concept of environmental branding which is a planned approach to interior design. This transforms the retail outlet into a three-dimensional space with appropriate brand positioning. This allows a brand's essence to permeate the retail space completely – within showrooms, work areas, trade exhibits and any other customer-oriented spaces. The results are a better customer experience, better brand visibility, increased registration, greater recall and greater profits.
Ahaa turns a prize catch!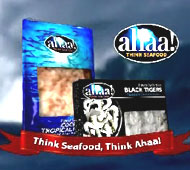 Ahaa Seafood, an international seafood brand turned its profits to gold with an animated 3-D TV commercial released in UK. The freshness and health that it promises was conveyed using beautiful shots of the undersea world and waves. The company offers the widest range of seafood and this colourful variety was also in focus.
Lenovo Care makes a mark
Customer care is an integral part of today's business. Lenovocare.co.in is a web enabled tool to facilitate the existing Lenovo customers and prospectives. This customer management system was developed to capture customer data and provide them with the necessary support. This has been designed, developed and deployed successfully.
Aldea enters the arena
Aldea is the latest entrant to the N&D stable. This strategy and technology company has just launched a campaign to promote its SAP Training Center in Madurai and Chennai. The USP of this training program is that one can turn a SAP B1 professional in 3 weeks and this was highlighted throughout the campaign. It zoomed in on the target audience, students and young IT professionals in Madurai and Chennai. The media selected consisted of a mix of print ads in leading newspapers, bus back panels, outdoor media and TV spots.