Dear friends,

Greetings!
The last quarter has been quite exciting with a series of new launches and new markets. The challenge of going into unexplored territory and conquering it brings a great sense of achievement both to us as well as the client.

Flamingo launched its new restaurant at Velachery and this has become a hit. Other new launches were the Xenon i-ACE in Nepal, Sakthi Sunflower Oil and the Iyerkalyanam.com site.
The icing on the cake was handling the theme and implementation of a huge event, the Kalaignar Insurance Scheme For Life Saving Treatments which brought us plenty of appreciation. In BAY, we take a look at how exhibitions can be the most exciting promotional tool for your brand. Read on for more.


Regards,
M. Nachiappan
A New Feather For Flamingo!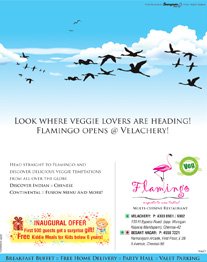 Flamingo restaurant opened its new branch at Velachery this June. This was a glittering affair and residents of Velachery turned up in large numbers.
Delicious food and fun events marked the occasion. The Flamingo theme ambience here is relaxing. Delicious pure vegetarian cuisine ranging from Indian, Chinese Continental to Fusion is served. It also offers a buffet. The wide choice has made the restaurant quite popular.
Sakthi Sunflower Oil Launch Campaign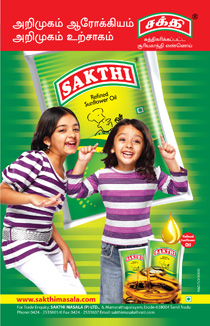 Sakthi Masala is a household name in the masala market. They entered a new product line with the launch of their sunflower oil brand Sakthi Sunflower Oil. We designed the launch ad series which was released in leading magazines in TN.